Sewer lines and drain lines have an essential function. Their job is to carry the waste and/or water away from your home or business. Unfortunately, over time these lines can become slow running or plugged. Many culprits can cause such backups and may need high pressure sewer jetting.
When things are flushed or put down drains that shouldn't be there, backups can happen quite often. Wet wipes, grease, and feminine products are just some of the primary culprits. Nothing should be flushed other than toilet paper.
Tree roots can also penetrate sewer lines and eventually cause a blockage. When this happens, we can provide the services needed to unplug those drain lines. A lot of times, the answer is high-pressure sewer jetting.
You ask what is high-pressure sewer jetting? High-pressure sewer jetting is a method of cleaning sewer and drain lines using pressurized water. An engine powers a high-pressure pump that produces this effect. A hose with specific nozzle tips depending upon job needs is designed to direct a high-pressure stream of water to pull the jetter hose through the pipe.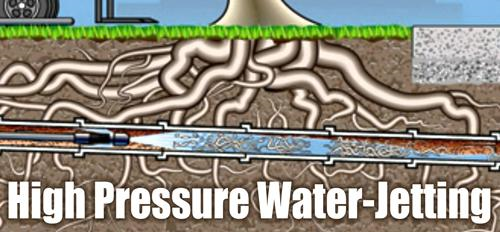 Some of our nozzle ends are best to use if we are dealing with grease and wipes. In other cases, we use root cutting ends for when we are dealing with roots.
High-pressure jetting is used for many jobs. Sewer lines, footer, downspouts, and basement drains are just a few. If you have any questions about our high-pressure jetting service, call us today.
When your drain lines become slow and plugged up, remember to call Tim Frank Septic at 440-636-5111.